The Triangle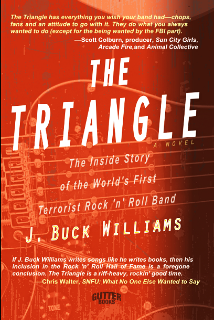 By J. Buck Williams
The Inside Story of the World's First Terrorist Rock and Roll Band
From inside a maximum-security prison comes this exclusive memoir from the bandleader who forever changed rock and roll—and the world.
Read More
Order Now
Praise for The Triangle
"J. Buck Williams must have been at every band practice I ever attended because he's got it all down; the musician pecking order, the decrepit rehearsal space, and the constant bickering. If you want to know what it is really like to be in a rock and roll band, read The Triangle. Williams saves you the trouble of having to learn an instrument or changing your entire wardrobe to all black."
—Patrick O'Neil author of Gun, Needle, Spoon, and former road manager for Dead Kennedys, Flipper, and Subhumans
"The Triangle has everything you wish your band had—chops, fans and an attitude to go with it. They do what you always wanted to do (except for the being wanted by the FBI part)."
—Scott Colburn, producer, Sun City Girls, Arcade Fire,and Animal Collective
"If J. Buck Williams writes songs like he writes books, then his inclusion in the Rock 'n' Roll Hall of Fame is a foregone conclusion. The Triangle is a riff-heavy, rockin' good time."
—Chris Walter, SNFU: What No One Else Wanted to Say
About the Author: J. Buck Williams is a writer and journalist living in San Francisco. He played bass for almost twenty years in Seattle and San Francisco, including hundreds of live gigs and a half dozen recordings, and has studied sound engineering. The best concert he ever saw was Roger Waters at The Gorge in Washington State in 2000.